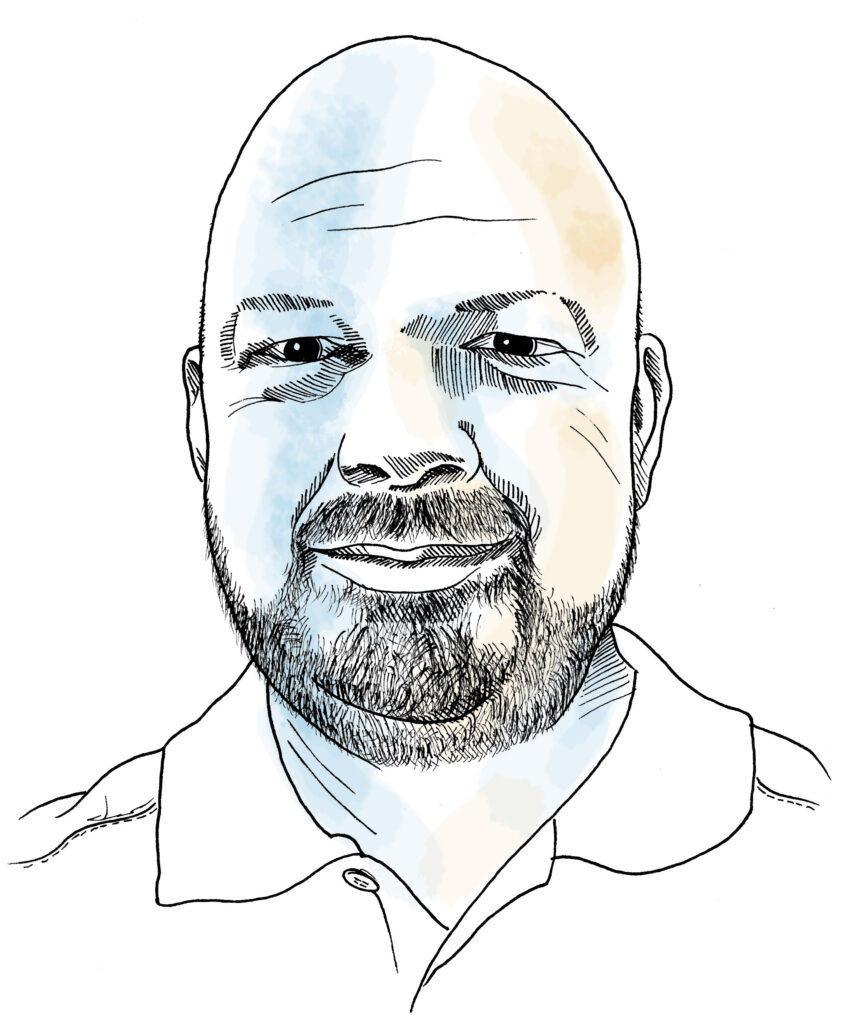 Scott Murray is President and Co-Founder of Digital Latitude Solutions, and he uses his more than two decades of experience delivering services and solutions for consumer brands and retailers. We asked him about his thoughts on business, including creating value through relationships and coordination among his partners and clients.
What does Digital Latitude Solutions do, and how does it fit in with the Fresnel Companies philosophy of enterprise optimization?
We fit into the Fresnel Companies by lending our perspective to anything that really touches a retailer or a consumer directly—those are really the kind of connections that we bring to the businesses in the portfolio. We work with both emerging brands, and those brands could be anything from the technology side to consumer products to concepts that folks are looking to bring to market, as well as consulting with Fortune 500 companies to help them work with retailers. For manufacturers, we help bridge a gap in knowledge base so we can help with communication as well as strategy to help those folks succeed at what they're trying to do.
We work with companies to build that infrastructure and to help them get their ideas to market. A lot of these people are either entrepreneurs or have been in business and worked in an industry for a period of time, but they're trying to make a leap into another segment of that business. We help our clients generate data-driven product sales through our consumer-centric go-to-market strategy.
Can you share an example of your solutions for a client?
From a product perspective, one of our past clients was a hydroponic lettuce company. They had a vision, which was, "We're going to build a greenhouse, and we're going to grow hydroponic lettuce." But as we worked with this group, one of the things that we conveyed very quickly is that if you're growing something, it's not the field of dreams—If you build it, they will come doesn't work in that space. Once you start growing, you need to have an outlet where your products will go. We worked with them to build a strategy from a brand perspective. The marketing team got them to a certain point in that journey. We took it from there and brought it to a customer, and we worked with them from an operational perspective to say, "Here's your demand cycle that you have for a product. Here's your consumer. How does that fit into a growth cycle so that you can take product to market and do that successfully and profitably?"
How do you apply your unique perspective?
One client we have been talking to now is a long-established company looking for growth strategies in areas outside its core business. We connected them with Fresnel's full-service marketing services agency, Blue Creative Group, which developed a consumer-facing website. Now that the site is launched, we're creating a strategy to help build that business. Throughout the process, we ask some core questions to get to the heart of what their business is, and what it is not—but could be. After we look at all of these different components, we can put together a strategy and action steps.
It sounds like some of these questions may be complicated for a business to answer. How do you distill the strategy into action steps?
As we go through the process, there's one thing that we pride ourselves on: Everything we do is based on fact. We make decisions based on metrics. We try to understand all the details of what's driving a process. We're driving the business forward and understand as we pull these different levers, we're always asking, What's the value proposition behind it? Because something may look like it's working and being very successful, but when you start measuring and understanding it, it might not be very profitable. There may be a segment of the business that is growing or not growing and it's a flat line. A segment of the business may have been around for a long period of time, but it's the most profitable segment of the business, but the company is just not investing in that piece or that product. We work with those retailers, those manufacturers, all of those folks, to find those pieces and adapt them to the marketplace.
Consumers see a lot of "cool" businesses out there, for example, a standup paddleboard company, and their product is one of a hundred or more in crowded market. And yet, their marketing is very polished, carving out their niche. Can you help a company like that?
A lot of entrepreneurs who built these businesses are super successful and super smart, and they're very good at chasing that dream. They get that dream to a certain level. And then once they get to that level, the question is, how do you make that next step? And in the case of that paddleboard company, it could be somebody that designed the paddleboard in their garage and started to bring it to market, and, just doesn't know how to take those next steps. We can help them.
Some companies use their resources to hire folks to help them do that. But others are at a stage in their growth and they can't afford to do that, so they outsource some of the marketing. They can engage us in the same tactics. From a strategy perspective, you know, we help them to find what that is. So, for example, a paddleboard company comes to us. We ask, How many paddleboards can you make in a week? What's your capacity to ship all the different pieces? We can look at the business and say, "Okay, your target is you want to get Bass Pro Shops as a client. To do that, you need to be at this level, producing and shipping this many pieces."
So you can help them check off the boxes to meet the requirements for major retailers, but a big part of it must be finding the right fit for their brand.
A lot of our clients work with our partnerships and our members. That referral network really helps us grow from a business perspective. We also have the referrals from our own client base that we've worked with in the past, because a lot of these folks form our network.
We've got a company we're working with right now, a coffee company that came to us through a friend that I've worked with in the past. They were looking for help launching this brand into retail and didn't know what to do. And they hear through their network, Hey, you need to talk to these guys. We specialize in the smaller boutique-type brands that that are emerging.
The question becomes, "What is the strategy?" A lot of these folks that we're seeing right now are online retailers, and they want to take that next step. "I have a website. I sell a product on my own website. How do I sell product somewhere else? And then how do I drive my overall brand?"
Now, ecommerce sales are growing, obviously, at a huge clip. But retail is going to give you more awareness and presence—there are a lot of brands out there you may have not have ever heard of.
A good retail strategy includes understanding how consumers use the retail outlets available to them, but with DLS it seems to go beyond that.
It does. For example, we work with NCR (National Cash Register) in a contract with DeCA, serving the military for supermarkets on bases all across the country and around the world. We work with them to develop that organization in their category management, their pricing strategies so that they act and can adapt more as a retailer, but still provide the benefit that they're charged with from Congress for the service members. So it's really working with within those organizations and adapting systems and strategy to still provide the need and the core business.
As we work with retailers to bring those ideas and strategies together, we help them grow and succeed, and also our company grows and succeeds as our customers do. Because our customers are our partners, they're driving sales and value, then we take the next step and also encourage the connections between our customers.