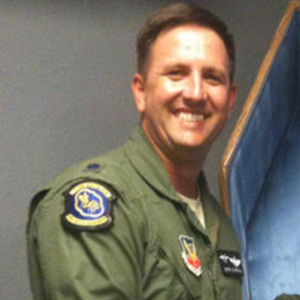 Colonel Nicholas B. Kavouras (USAF, Retired)
Colonel Nick "CJ" Kavouras ascended through the officer ranks of the United States Air Force and Florida Air National Guard, serving in a number of senior leadership positions. While serving as an F-15 Mission Commander 1999-2000, Col. Kavouras led combat missions over Iraq during Operations Northern and Southern Watch, enforcing the United Nations sanctions. In 2004 he served in the Asian Theater developing joint and multi-national integrated air defense plans for the Korean Peninsula.
After leaving the active duty Air Force in 2001, Col. Kavouras accepted a position in the Florida Air National Guard serving in senior leader positions as an F-15 Eagle and F- 22 Raptor instructor and evaluator pilot. In 2013, he accepted a position as a Southwest Airlines 737 first officer and continued serving with the Florida ANG in a part-time capacity. In 2015. Col. Kavouras was asked to return to active duty in the Florida ANG and after being promoted to the rank of Colonel, was selected as Chief of Air Combat Operations for the Continental U.S. Region of NORAD (CONR) and NORTHCOM. His primary responsibility in this "24/7 no-fail mission" was to maintain the United States air-defense shield that oversees and protects U.S. airspace, including all private, commercial, and military flights, while identifying and terminating any and all threats to the United States and its interests.
Most recently he was a key player in air-security planning for the last three Super Bowls, POTUS, and working with multiple Federal Agencies, including FEMA, in Defense Support to Civil Authorities (DSCA) during three major 2017 hurricanes. Col. Kavouras is an expert in data analytics, informational security and situational crisis management. He provides The Fresnel Companies with key contacts, expertise in a variety of technical areas, along with substantial management and leadership guidance.